Designer Football tables available from Aladecor Interior Design in Marbella.
Build entirely out of crystal, these designer football tables are characterized by their transparency, their pure design and essential forms and their elegant statuettes in aluminum which make up the opposing teams. These football or foosball tables are ideal for a private game room at home, the hall of a luxurious hotel, or a private area in your favorite club.
Contact Aladecor Interior Design Marbella to discover the full range of options available for your perfect designer football table.
A UNIQUE PIECE OF ART.
Cristallino football table.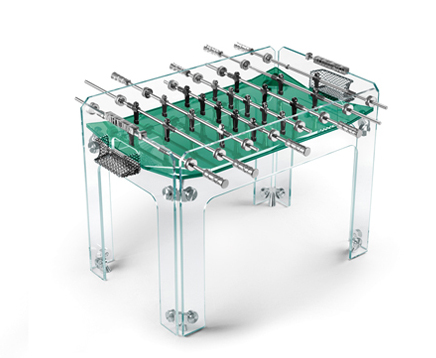 With its pure elegance and diamond like transparency, Cristallino will fulfill your desire for the extraordinary. Impressive for its sophisticated design and quality construction, Cristallino foosball table is constructed entirely of crystal glass and aluminum using the most sophisticated technology.
Cristallino Gold LE football table.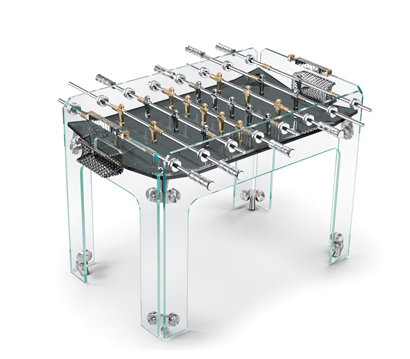 If a unique piece for your interior is what you are looking for then the Cristallino Gold LE Foosball Table is what you need. With a limited series of 50, this will be the talking point of any setting. Embellished with exclusive 24 carat gold plated accessories, this showcases the exquisite perfection that Teckell has established itself for.
Contropiede football table.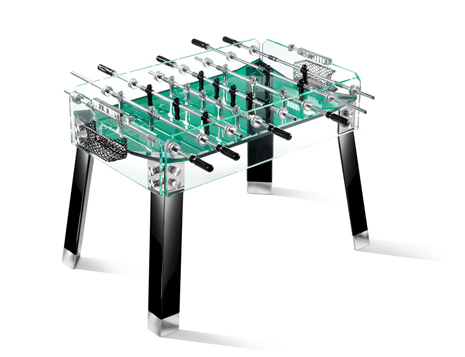 By using the most skilled Italian artisans and materials, Teckell® turns Contropiede foosball table into a precious blend of art and technology. Contropiede WHITE is unique for the simple beauty of its colours, white and aluminum, together giving life to this pure object of desire. Contropiede WOOD is perfecty highlighted by the exclusive combination of solid walnut features with the transparent crystal playing field.
Angolo football table.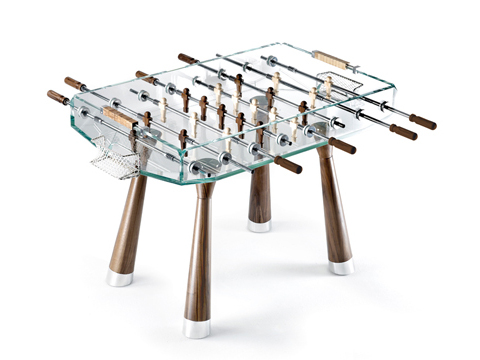 The classic form of a Teckell Foosball Table is enhanced with the addition of walnut wood to the Angolo Table. An playful addition to your interior, this will stand the test of time with its elegant design combined with the craftsmanship of only the finest craftsmen in Italy.
90° minuto football table.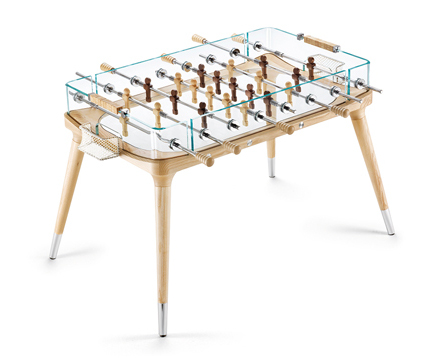 A subtle and elegant wooden structure highlights and supports this modern and essential foosball table, inviting the challenge of ejoying the game until its very last minute (90° Minuto). Engineering and technology is cleverly concealed beneath the elegant lines of this enchanting piece of Teckell® Collection.
Intervallo football table.
Bring a touch of humour into coffee hour with Teckell's Intervallo Foosball Coffee Table. Designed and made in Italy, this clever adaption of the traditional games table is constructed from walnut and low iron curved crystal glass. Keep surface accessories to a minimum to really show it off.
On the whole, life is one continuous game, and we are its team players. Enjoy the luxury of taking some time off to think about it. Intervallo foosball table is more than a break: it's an interlude to think things over, to see the world from another perspective, and to elaborate new tactics, before getting back into the game.